Date: Saturday, April 13 2019
Time: 13:00 - 18:00 (GMT)
FG Type (Classic or Unity):
Ruleset: Pathfinder Society
Games Master: HoloGnome
Minimum Players: 3   Maximum Players: 6
Booked: 3   Pending: 0
Available: 3
Attendees

Confirmed:
Xazil
Lordkavos
KevenSimmons
Pending: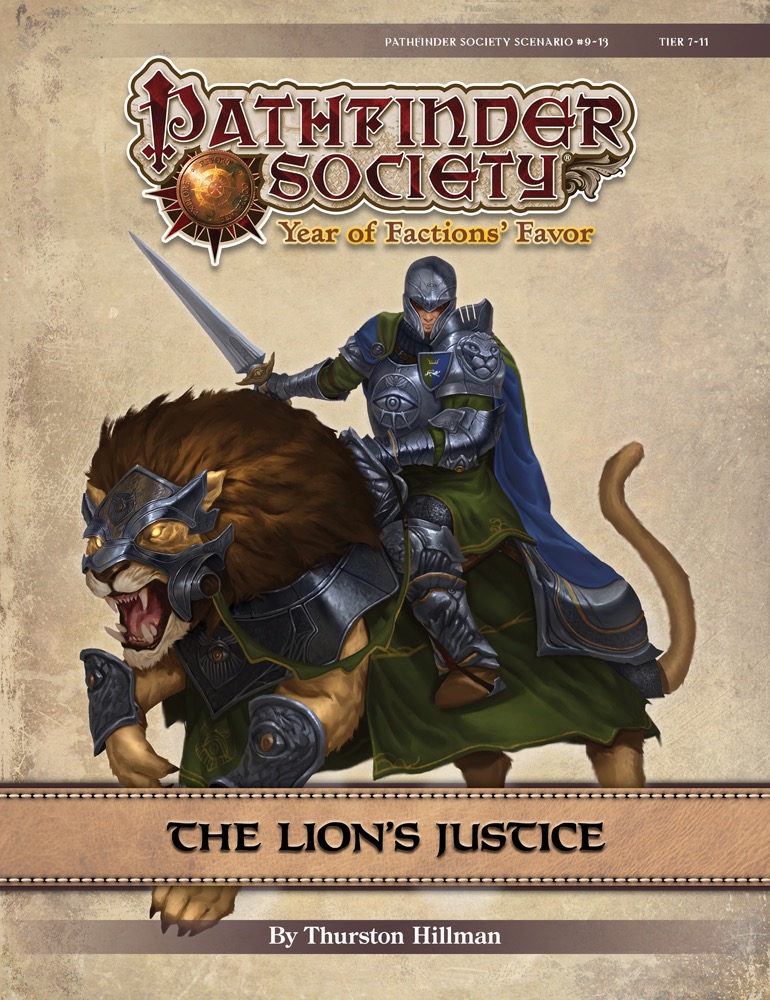 A Pathfinder Society Scenario designed for levels 7–11. (Sub-Tiers 7-8 / 10-11)
►Click here for more details of playing Pathfinder Society at FG-CON 14!
Devious schemes are afoot in Oppara, the glittering capital of Taldor. As the city delights in a public holiday, Lady Gloriana Morilla and her allies have learned of an impending plot that could throw the whole nation into chaos. The PCs are uniquely poised to collaborate with Taldor's secretive Lion Blade spies to intercept the culprits in what promises to be a defining moment in Taldan history.
Contents in "The Lion's Justice" also contribute directly to the ongoing storyline of the Sovereign Court faction. This is the last of several scenarios that also set the stage for and directly tie into the upcoming War for the Crown Adventure Path, and events in this scenario overlap with several scenes in the first volume, Crownfall.
Written by Thurston Hillman.
NOTE: This GM has an Ultimate FG license and anyone may play, including those with unlicensed/free clients.
Bookings
Bookings for this event have now closed.