Listen to guest author Mike Mason of Chaosium talk about Call of Cthulhu, Chaosium and Pulp Cthulhu at FG Con 10.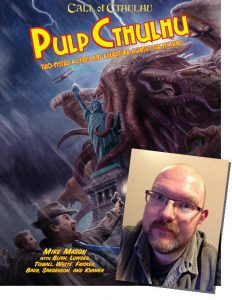 I am pleased to welcome Mike Mason, Line Editor for Call of Cthulhu at Chaosium Inc. to discuss Call of Cthulhu 7th edition, as well as Pulp Cthulhu which he co-authored and released recently. He will discuss the plans for the game and many other things.
Call of Cthulhu is very much a favourite RPG system for many people but sometimes you want to up the ante and have your investigators go toe to toe and rock and roll with the villainous machinations of the Cthulhu Mythos. Set in the 1930s with a weird science twist your investigators are tommy-gun toting, enhanced, souped up and ready to take the fight to the eldritch horrors!