Date: Sunday, November 10 2019
Time: 13:00 - 18:00 (GMT)
FG Type (Classic or Unity):
Ruleset: Pathfinder Society
Games Master: HoloGnome
Minimum Players: 3   Maximum Players: 6
Booked: 3   Pending: 0
Available: 3
Attendees

Confirmed:
Xazil
bsktballchmp85
stephan_
Pending: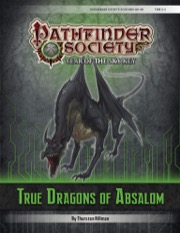 A Pathfinder Society Scenario designed for 4th-level pregenerated kobold characters. (Tier 3-5) – Athrax (Alchemist/4), Fazgyn (Rogue/4), Skyrahk (Cleric/4), Engashez (Bard/4), Pethjun (Fighter/4), Varanog (Sorcerer/4)
Click here for more details of playing Pathfinder Society at FG-CON 14!
For several years, the Pathfinder Society has enjoyed a mutually beneficial alliance with the Sewer Dragons, the dominant tribe of kobolds living beneath Absalom. When an elite patrol discovers a wounded member of the Society with a desperate message, the Sewer Dragons must move quickly intercept an extraordinary threat from seizing their territory—if not Absalom itself! In this special adventure the players portray kobolds as unlikely defenders of the City at the Center of the World using 4th-level pregenerated kobold characters.
Written by Thurston Hillman.
Note: True Dragons of Absalom is a limited release scenario. It may be run anywhere, but only by 5-star GMs. Venture-Officers may only run this scenario if they meet this star rating requirement.
If you play this scenario, you will earn a Tier 3-5 chronicle and the right to play your 4th level kobold pregen in any PFS adventure.
NOTE: This GM has an Ultimate FG license and anyone may play, including those with unlicensed/free clients.
Bookings
Bookings for this event have now closed.